I was blessed to be able to purchase a home last summer. I had always wanted an epoxy floor on my first garage, so I set to researching it.
I looked at all the products--do it yourself, professional applications, etc. I looked at many different types--water based epoxies, paint, and chemical epoxies. I finally decided to go with the Rust-oleum Epoxy Shield Professional. The "professional" is their "chemical" based epoxy, while the one you can get at Home Depot is apparently water-based. After reading about hot-tire pickup on the of the water-based, I decided I give the Professional version a try.
I started out with a clean slate. I don't know how old this slab is, but it's not original to the house. The previous home-owner had a new slab and driveway installed before I took ownership.
As you can see, the garage slab is in six sections, which I thought would make dividing up the epoxy easier.
Preparation is key to getting a good bond between the epoxy and the concrete. First, you have to degrease any oil/grease, etc. on the concrete. Luckily, I didn't have years of oil drips to contend with. I used a stiff brush head I bought at home depot attached to a painter's pole to apply the degreaser. No degreaser comes with the Rust-Oleum kit, so I used Behr Concrete Cleaner and Degreaser. I'm sure other degreasers such as Simple Green would probably work as well
After the degreasing/cleaning step, you have to "etch" the concrete with a chemical peel to rough up the surface to give the epoxy something to bond to. The garage slab was a little rough and I considered skipping this step, as I thought the etching might be for really smooth concrete like you might see at Costco or something. Anyway, I etched it, and the acid in the etcher did make the surface a little rougher than when i started. I used the same brush/pole implement to apply the etcher, wearing chemical resistant gloves and a respirator (this stuff was potent).
The Professional kit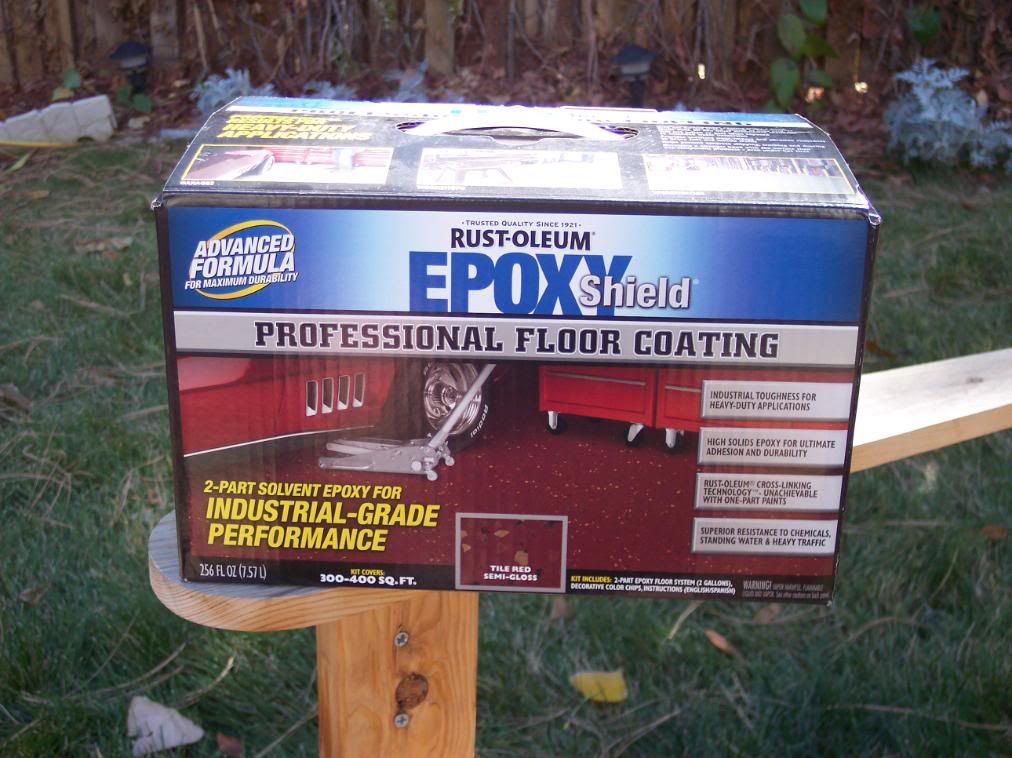 comes with two gallons of the two-part expoxy components as well as a bag of paint flecks if you so desire.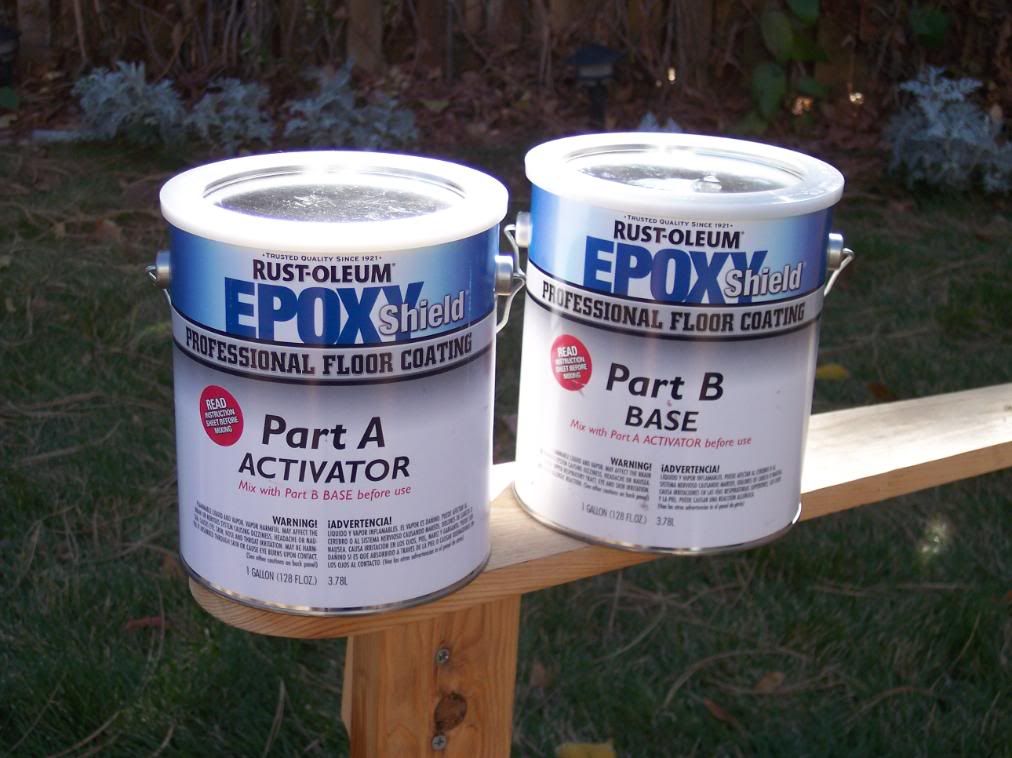 My garage is a hair over 400 square feet. One kit will not cover that much, so I had to initially use two kits. I read in another forum that there are slight color differences between kits, and they suggesting mixing all your Part A together and putting it back into their respective cans, and mixing all your Part B together and doing the same. You only want to mix one kit at a time as mixing two kits will accelerate the curing time.
I used a power drill and mixing implement to get a good blend.
This epoxy crap sticks to everything. Most of the stuff you use that touches the epoxy should be considered disposable. I used epoxy-safe rollers and an epoxy safe brush to cut in the joints and edges of the slab.
The epoxy is thinned and/or cleaned with Xylol. I bought a gallon just to have for clean up.
As I said, I thought two kits would do. I think if you follow these recommendations and my mistakes, you can get by with two. I ultimately needed three.
I started the application by cutting in the edges of the garage (i have a lip around the garage (no pics) and the expansion joints in the slab. I really layed this stuff on thick with a brush, and it took a surprising amount of the first kit.
My original plan was to do half the garage with one kit, half the garage with the other. Not knowing how thick to put the epoxy on with the roller, I hesitated a bit and put too thin a coat on initially. The Rust-oleum directions specifically say you do not need two coats, but my experience was quite different.
I got about two thirds of the way through the first half of the garage, and saw I had plenty left over. However, due to the size of the garage, I couldn't get back to the portions I had already done, so the first parts of the application turned out very crappy.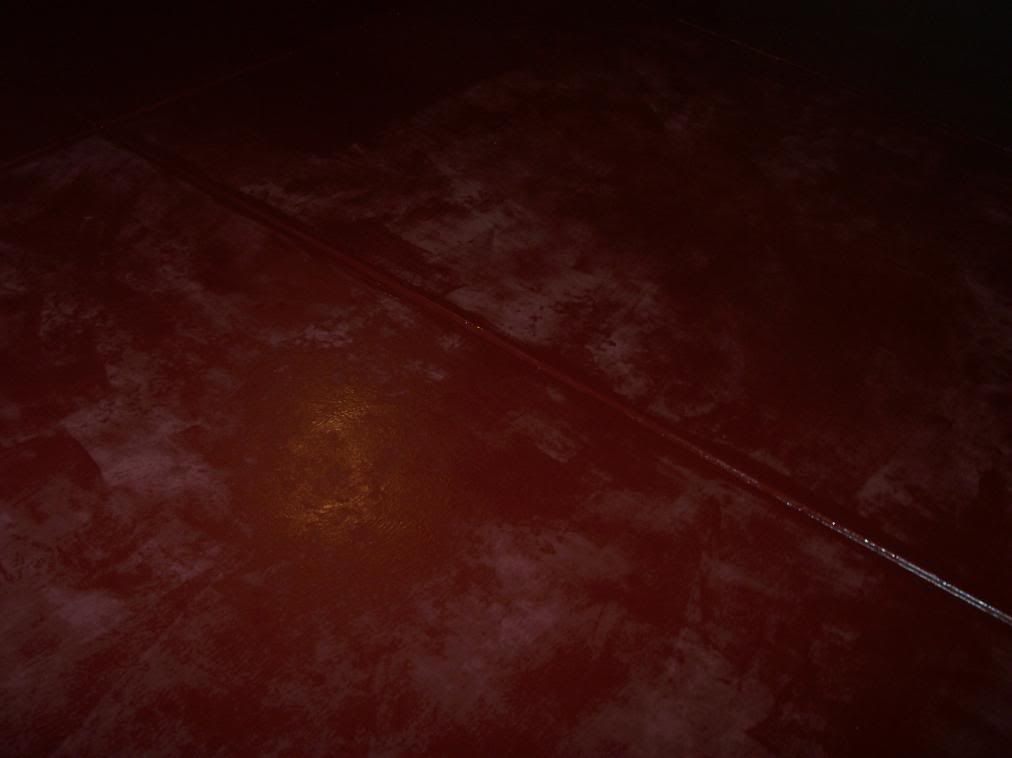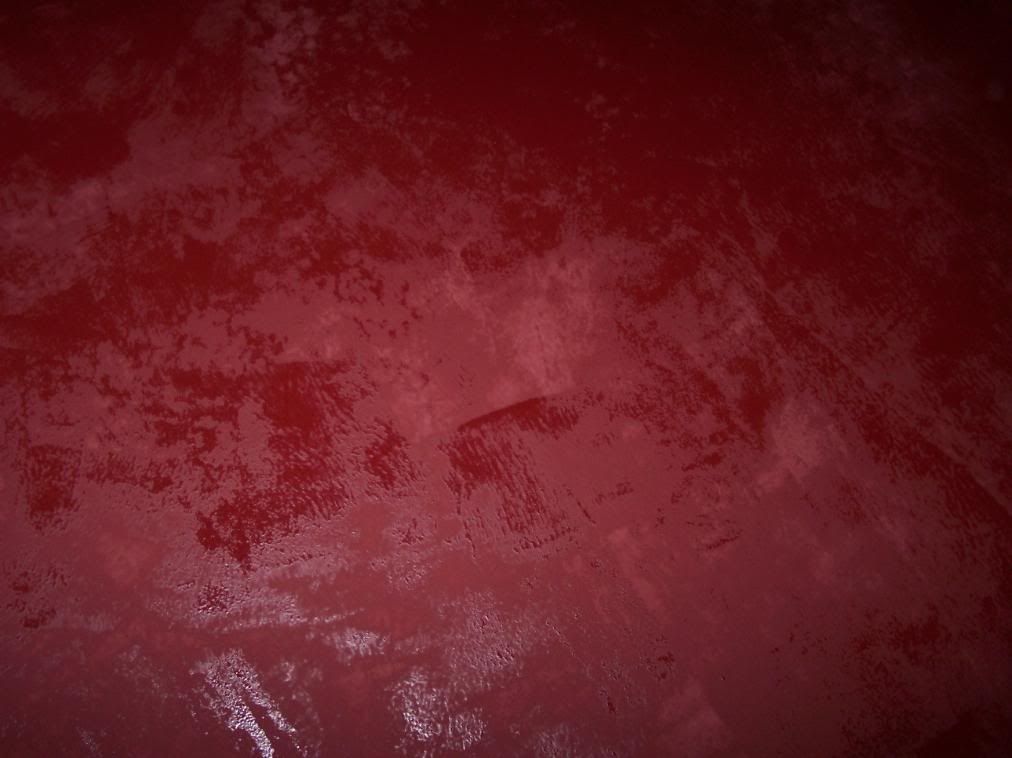 Once I was at the end of the first half, i had enough to really lay on a thick coat on one third of the other half of the garage. this thick coat turned out to be just fine and was not splotchy like the above photos.
So, at this point, I've got three crappy squares (one half of the garage) and one good square. I figure I'm good with the remainining kit to get it done--I'll lay on two thick coats, and just double coat the other half again. That didn't work, and I ran out, which required that I buy another kit. So, after the second kit dried, I put on another coat on top of the entire floor.
In retrospect, I think the best course of action would be to put one thin coat on to act almost like a primer, and then put another coat on top of that, instead of the ultra thick coats (which allowed some runs to show). If I were to do it again, I certainly would do that method.
I didn't use the paint flecks that came with the kit. Actually, I started to, and didn't like the way they looked, so I covered them.
After the three coats of epoxy dried, I put on the final clear coat. I don't have pictures of it, but it comes in a similar box, and has a total of one gallon of Part A and Part B. But, this is a thin coat, so that's all you need for about 400 square feet (a normal two-car garage).
The clear coat comes with an anti-slip material you can add to it. It was a grainy, sand/silica like grit. So, I mixed up the clear-coat and put in the anti-slip stuff and mixed for five minutes and set to work. I applied the clear coat, which is a little cloudy when you're pouring it. Much to my dismay, when I was finished, I noticed that most of the anti-slip had settled in the bottom of the can--not good at all. This epoxy is slick as crap when wet. Here in Colorado, the cars bring alot of ice and snow in the garage, so this has been a significant issue.
I followed the directions to a T and the anti-slip stuff still settled. I think the solution is to have your mixer right there at application, and remix between every little bit of application to keep the anti-skid material suspended in the epoxy. That's what I'm going to have to end up doing once the spring comes and its warm enough to put another coat on.
Here's a few pics of the finished product:
Each of the kits cost about $100 shipped. I thought I could get by with two kits and a clear coat kit in the $300 range. Of course, I already put another $100 in it, and will need another $100 kit when the spring comes. But, this is still cheaper than quotes for application (between $4 and $5 per square foot). Of course, had I paid someone to do it, it would've been done in a day and done right the first time, but heck, I enjoy the home improvement projects.