Dylan McDermott Files for Divorce
Originally posted Tuesday May 20, 2008 07:10 PM EDT
Dylan McDermott and Shiva Rose Photo by: Vince Bucci / Getty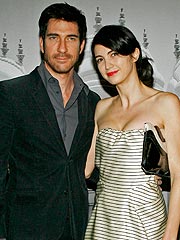 Dylan McDermott filed for divorce from his wife of nearly 13 years, Shiva Rose, court papers show.
McDermott, 46, who previously announced their
separation,
seeks joint custody of their daughters, Collette, 11 and Charlotte, 2, according to the Los Angeles Superior Court papers filed Friday.
The papers cite the usual irreconcilable differences as the reason for the split.
McDermott, best known from TV's
The Practice,
and Rose, 39, an actress, were married in 1995 and separated in March 2007, according to the papers. McDermott, who played an attorney on TV, is acting as his own lawyer in the divorce, according to the papers.
–
Mike Fleeman