Hi there,
I have a major dilemma, and I hope you guys can offer a few answers. (The answers I'm looking for do not include 'hire a plumber'. I will explain why in a minute.) I had a fire in my house, and the 2nd floor bathroom was one of the areas that was not fire damaged, but the firefighters did a lot of damage because the fire was in the next room. Our insurance company's initial estimate included just replacing broken plaster and things like that in the bathroom. However, when the fixtures were pulled out to do the sheetrock, they discovered major structural 'anomalies' that needed to be corrected (which I wont get into because they arent relevant). We also uncovered a plumbing nightmare. We were also alerted to the fact that the main cast iron stack has a huge crack in it running its full length, and the 90 deg turn down is crumbling. The plumber hired by the fire restoration company told us that they would change the bare minimums to get up to code, but the damaged pipe is on us. To replace the stack with PVC until the top of the back to back tee (not even the whole vent through the roof (with everything exposed, mind you), he quoted us $1300. He is calling for $300 in material and 6 hours of labor.
First of all, I'm not knocking anyone's profession, but charging almost $200 an hour is obscene. I also know what PVC costs, and this job doesn't need $300 worth of it. We're talking $11 for each 10' section of 3", a couple 90 deg's, a couple 45 deg's, a combo, and a couple san-tees. MAYBE $100. (and we all know he's just going up to home depot to get his pipe and fittings anyway)
Have a look at these pictures and you tell me. See any code violations?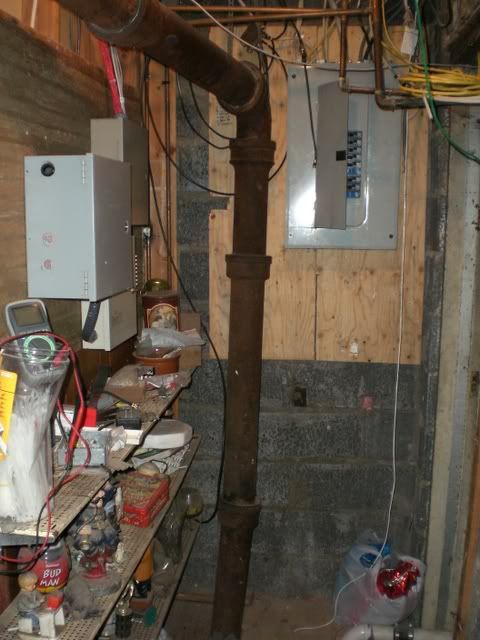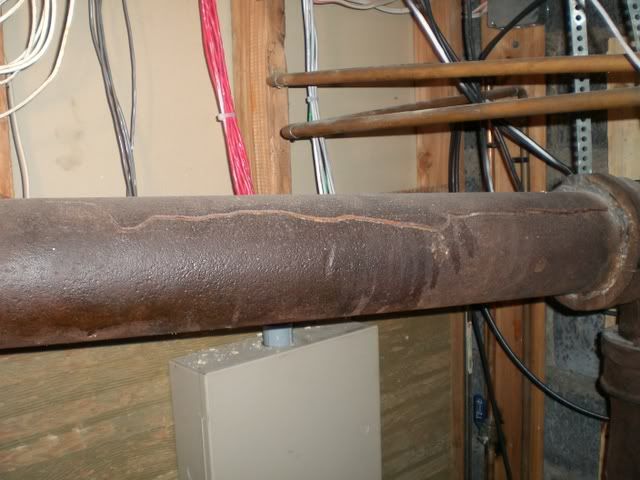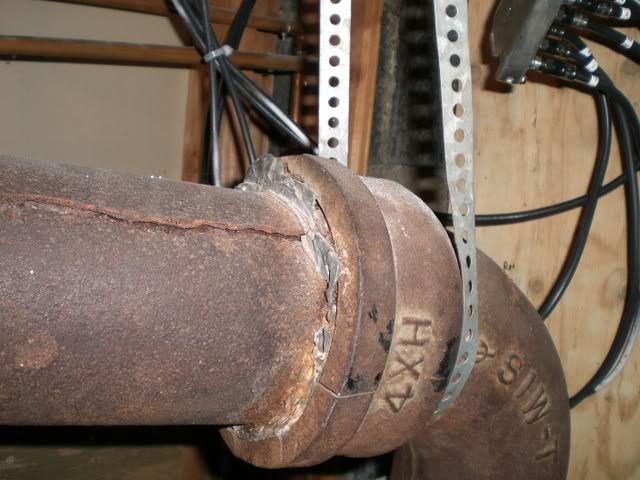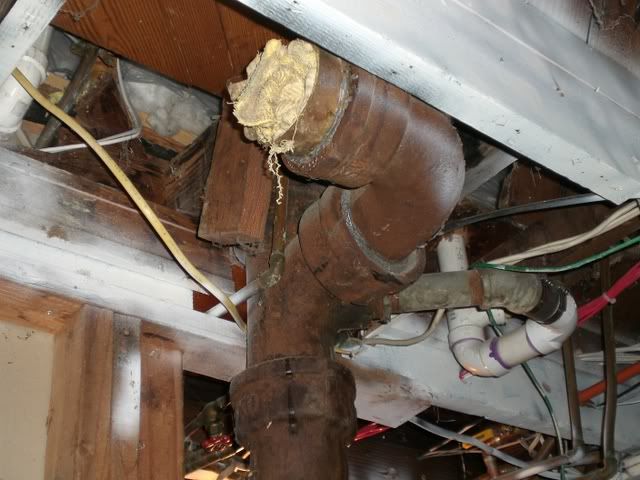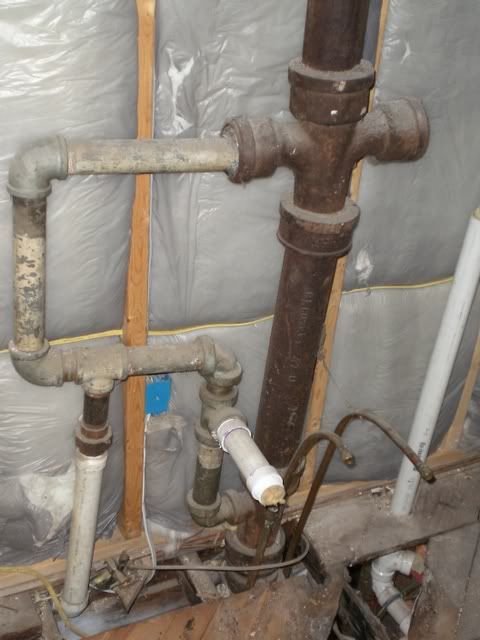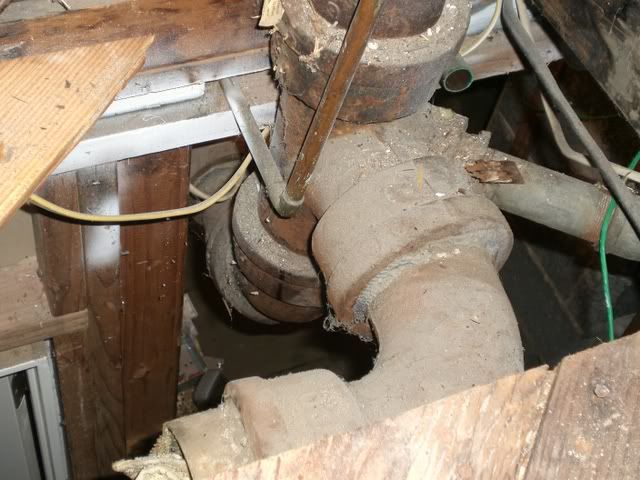 The guy also just sent us a bill (which should've gone to the ins company, but I'm glad I saw it first) for $800 to remove the toilet, (steel, not cast iron) bathtub, and sink. That took him 2 hours at the absolute most. So I don't know what this guy's deal is, but I'm getting the feeling he's crooked.
So since it is a very straightforward layout, I want to pull a permit and do the job myself (it is legal in my area). I have done major plumbing before, including a new kitchen and bath by myself on the first floor. I just want to double check my plan with some pros to make sure I'm not missing anything obvious, since this has to pass inspection.
What I want to do is run a combo tee on its back through this existing hole (hole measures about 5" square - those water pipes are coming out too),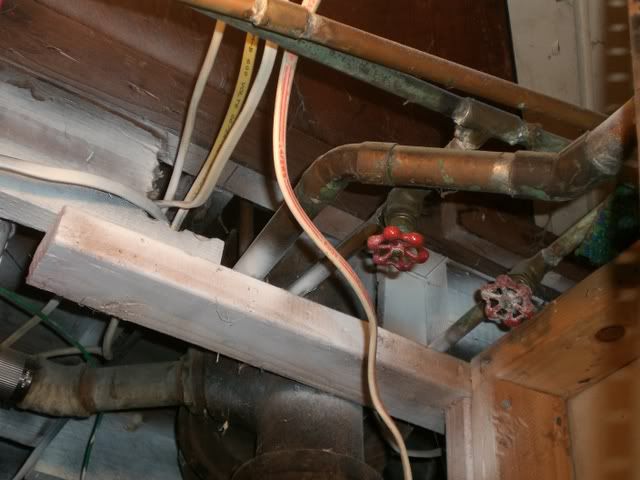 giving the toilet the straight flow, and the wet vent going vertical (I know I can't use a san-tee in this position). Then using a pair of 45 degs, bring the PVC down and away from the wall a few inches, then make the horizontal run (with the bathtub combo tie in) and the 90 deg turn down, with a transition coupling to the cast iron at the floor. (as long as the bathtub drain dumps into the stack at or below the closet flange, it does not require a separate vent, correct? Would you recommend putting one in anyway?)
The upstairs part of the wet vent will have the sink drain with a san-tee, as well as the vent from the downstairs plumbing above the sink flood line (and the bathtub vent if you think I should). I am going to use 3" all the way through the roof.
Any problems with this plan? Recommendations? Like I said I respect all tradesmen, but I refuse to pay this guy $1300 for this job because it's not a $1300 job.
Thanks for any advice.
Taz