Thank so much to everybody who helped with my
earlier question
!
As I get the plumbing in place for my bathroom, it's quickly becoming apparent that there's not as much room for all those long turns as it seemed initially.
Here is a layout of what we're trying to do.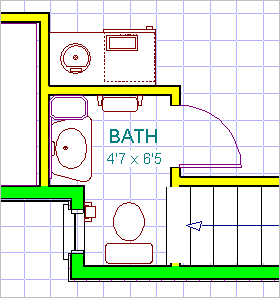 Besides the toilet (I have opted to go with the rear outflow toilet as suggested by you all), there is a lavatory and a small bar sink that will be draining into the same location. Problem is tying in this plumbing in a way that doesn't completely destroy the space. After playing with multiple approaches (see below) the following dry-fit scenario is where I'm at currently. (You should be able to determine from the location of the toilet flange how this corresponds with the diagram above.)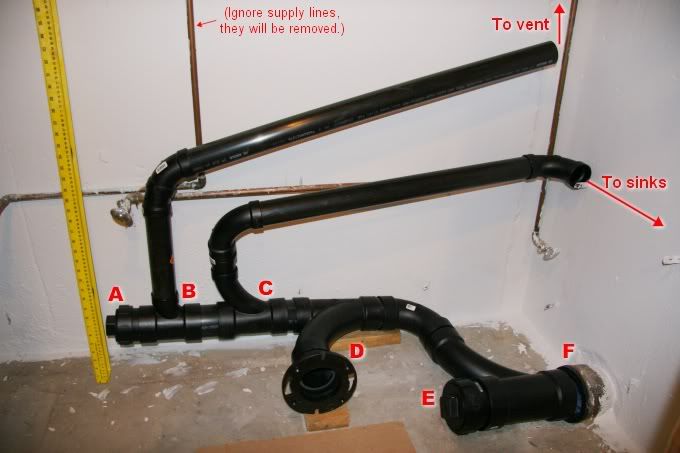 I have a couple questions regarding this arrangement:
Is the wet venting done acceptably here?
Would it be acceptable to use a sanitary tee coming off the toilet flange rather than a long sweep combo (Label D)? I know this is generally ok with toilets, but suspect the rules may be different with a rear outflow toilet.
Is it acceptable for the toilet to be directly in front of the 4" cleanout (Label E)? I know there are rules about clearance in front of cleanouts, but don't know whether a toilet is considered "removable" by code.
Any other comments/thoughts/suggestions? Feel free to ridicule my ignorance.
As an alternative to pulling the sink drain so far out of the way, I have considered a couple other options:
A double wye in place of the 4" combo wye (Label F). But this would push the wall framing out excessively, boxing the toilet in.
A 4" x 4" x 2" combo wye before or after the 4" combo wye (Label F). But this would push the toilet too far under the stairs. Not workable.
Alternate toilet arrangement, east facing rather than north facing. Also not workable with the space (which surprised me when I actually tried it.)
A custom fitting in place of the 4" combo wye. (See sketch.) But it doesn't seem to exist, I can't find anybody who could fabricate it, and I'm sure it would be horribly expensive if I did.

Your advice is greatly appreciated!