After reading a few of the other threads on this subject I thought I would devote my after dinner time tonight and see what I could come up with with the intent of building a Seesnake to Laptop interface device as cheaply as possible...
First a picture then a few observations and parts sources.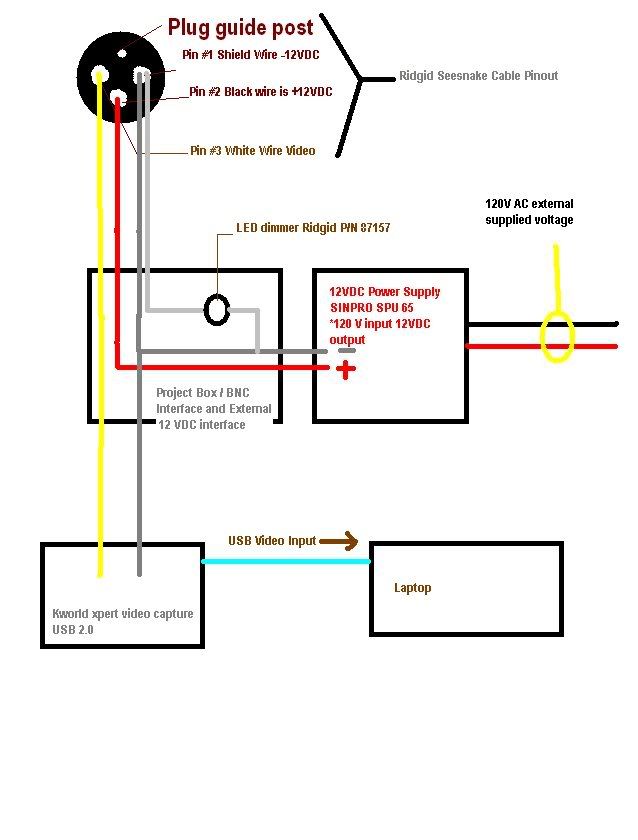 A few thoughts:
- Pin #1 is a shielded cable (2 conductors). I'm using one of these for the Dimmer / Potentiometer / LED circuit
- I will do a first build of this rig with adjustable / regulated power supplies to make sure there are no voltage surprises.
-The video capture device comes with basic software for the laptop.
- The power supply that is built into a USB port is not high enough to run this rig. You may burn out your USB port on your laptop if you try to power everything via laptop skipping external power supply.
-If you try this design remember that DC voltage is polarity specific.
Parts sources:
SeeSnake Reel and cable:
http://www.toolsdirect.com/index.cfm.../795/finish/NA
Laptop:
http://www.tigerdirect.com/applicati...314&CatId=3444
Video Capture Device:
http://www.tigerdirect.com/applicati...0&Sku=O38-1022
Power Supply:
http://www.trcelectronics.com/Sinpro/spu65-105.shtml
Project Box / Connectors:
http://www.radioshack.com/home/index.jsp?cid
Estimated Turn Key Price for this project:
Under $8000 if you had to buy everything new.
If you already have a laptop and the Seesnake cable and reel then you could build the actual interface for less then $200...
Okie