I hope.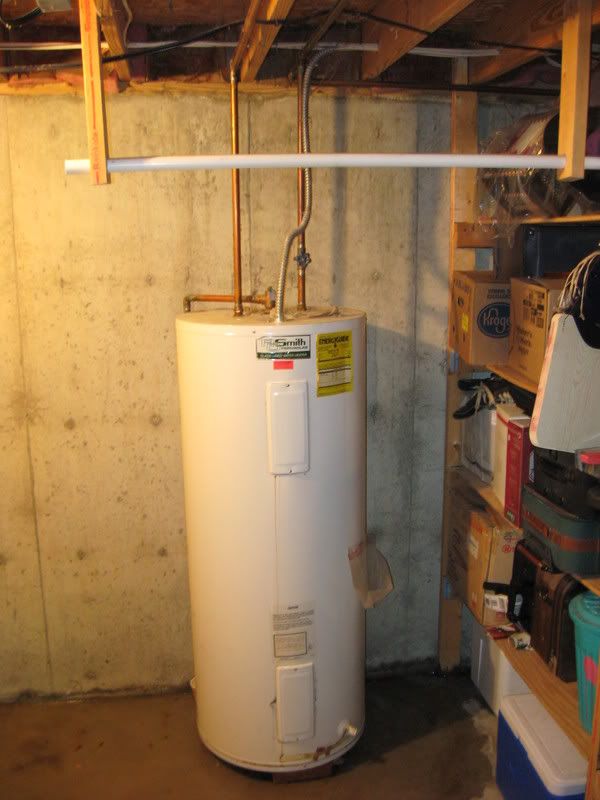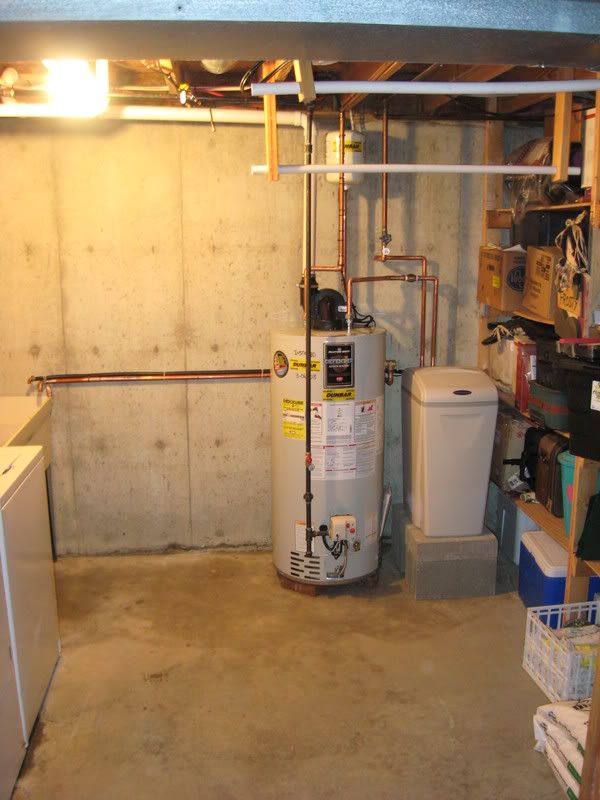 This was a electric to powervent gas water heater conversion along with the addition of a water softener.
Criticism is welcome.
I'll point out that yes, I have an extension cord cable tied going over to this water heater as a temporary to operate the softener and the PV heater; I properly installed a capped off box for the existing 220 feed for the electric that was serving the unit, up in the joist space and clearly marked at the panel and blank cover. The customer is having an electrician run a new circuit to feed these two units.
Yes, that T&P is not mounted/anchored to the wall and that piece holding the distance up for an Air Gap tolerance for both the softener and T&P discharge is a soldered copper stub.
The "floor drain" in this room is a hole drilled in the floor; an inspector wouldn't know that and would count it as a workable drain but since I'll be a plumbing inspector someday, I'd say that I made the right choice catching a nearby fixture.
It was my choice to raise the softener; didn't like sending that discharge up and then out even though the mfg allows for 8' of height @ 40psi.
There is no small tube for the brine tank overflow, I don't know why they don't supply that with the unit.
That is a check valve between the softener and the heater, it's less than 10 linear feet of piping between the two.
Here's why I won't do another one of these, again in one day:
This took 9 hours *really 10* and more pain meds than I care to mention. IT SIMPLY IS NOT WORTH IT knowing I could of made just as much money being in 3 or 4 driveways. (Charged $650 labor, which included less than 20' of copper pipe and fittings, $25 of black iron pipe and fittings, valve and DUF's)
It simply was a job that a healthy person could of completed in 4-6 hours tops, not no freaking 10. The more physical pain I'm in, the slower I go.
What's great is I never had to lift the new water heater or the old one, same with the water softener except when I had to put it up on blocks. The customer had a $8/hour guy that did the grunt work, including drilling the hole out of the house for the 2" vent for the heater.
I pretty much was hung over friday because of the amount of medicine I had to take to get through this job......
this work just isn't in my best interest, seriously.
By the time I'm 45 I think all I'm going to hire myself out to do is Delta 2 hdle faucet rebuilds,
flapper and trip lever replacements
faucet aerator replacements.
Fire away folks! This is your one and only chance as I'm hanging up my expertise on this one talent I have in plumbing.......I physically can't do it anymore. I should of charged a grand for my efforts, not $650. He bought all materials with exception to what I came with.