Back in the day we used to have a sales representative come to our shop from Hodes. He show us some new products that they got in and take our order for any of the items we wanted. One of the things I liked was they carried a good quality 17 Ga P-trap. I was just at a job where I installed one of these 10 years ago, and it still like the day I installed it. Its a good quality 17 ga trap, with heavy brass compression nuts, and the slip joint washers are very good quality as well.
http://www.hodesco.com/default.aspx?...temcode=50-509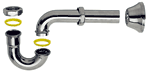 They also have a slip joint washer they call Han-Tite These things really impressed me. You replace the old dried out slip joint washers with these, and as the name says Han-Tite and no leaks. What impressed me is after righting the slip joint nut hand tight with these washers it is very difficult to pull apart the pipes from each other.
http://www.hodesco.com/default.aspx?...temcode=51-597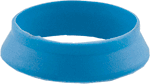 So there is my preferred traps and slip joint washers. Do you all go that little bit extra to offer your customers a good quality product? A few plumbers I know will only carry the plastic P-trap assemblies and install them stating there is no way their customers will pay all that money for a 17 ga. P-trap.