I will let the information speak for itself.... (
I have added screen captures current as of June 13, 2011 )
We have established that South Coast Equipment (SCE) is now Sewer Equipment Company of Nevada
(
http://www.ridgidforum.com/forum/t8994-4/
)
Sewer Equipment Company of Nevada has purchased a pump and dump EBAY entity (A company that was made selling small random items to an established network of others doing the exact same thing with the goal of selling these new entities with an already established history and feedback rating, This is why the seller names don't match the company names)
The Web As I have found so Far...
Sewer Equipment companty of Nevada is now selling "PB series Cameras" (PB standing for PROBUILT)
Notice the equipment pictures are amazingly similar from another ebay seller "KILFIM"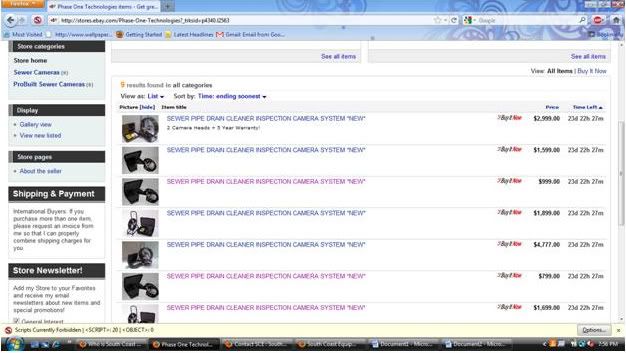 Seller KILFIM is calling themselves "Phase one technologies" and is selling "PROBUILT sewer cameras"
SEWER PIPE DRAIN CLEANER INSPECTION CAMERA SYSTEM *NEW* | eBay
Interestingly enough Sewer Equipment Company of Nevada is selling PROBUILT sewer cameras on another site (Overstock.com) and amazingly enough his username on this site is "
Probuilt
ools"
Overstock Auctions Sewer Pipe Cleaner Video Inspection Camera Item 46593725
It would appear that "SECN" and KILMIM /Phase One Technologies are part of the same tangled web
Find Your Distributor : Pro-Built Tools, Online Store
Amazingly enough if you look at the homepage of this company they show they are selling South Coast Equipment.
(Sewer Equipment Company of Nevada / South Coast Equipment)and (KILFIM/Phase One technologies) are from the same area of southern California and appear to be connected.
Could "Probuilttools" Sewer Equipment Company of Nevada and Phase One Technologies be connected through the original South Coast Equipment??? (examine links provided above)
More amazing still is the fact that the Ebay Seller KILFIM recently sold their ebay company that by their history specialized in selling Guitar Pick-ups to Phase One technologies who now are a highly rated Probuilt sewer camera seller...
I find it interesting that Sewer Equipment Company of Nevada and Phase One technologies both as Ebay sellers were formed in the exact same misleading manner. If you want a good laugh read the feedback history of ebay seller KILFIM and wish them luck selling their first sewer camera...
To elaborate on who the owner of Southcoast Equipment is (Thanks to Irvine Plumbing)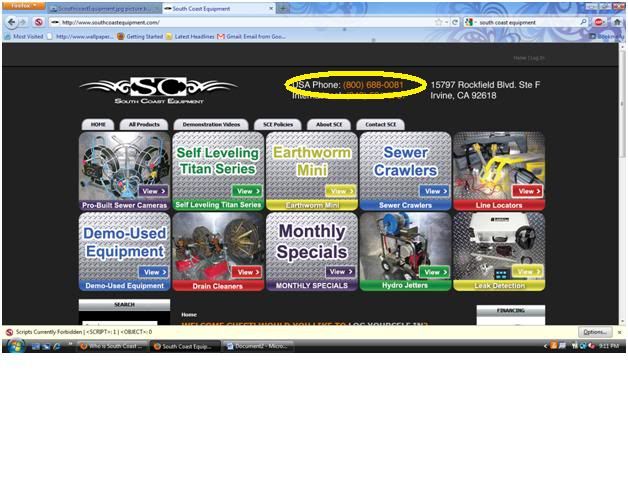 Buyer Beware.....Ebay is not looking out for your best interests with these kinds of folks but I'm sure they love the transaction fees for all of these folks who buy and sell thousands of 5 dollar items among themselves to build these highly rated shell entities for resale