Hi,
I'm basically building a pair of squat stands out of 4x4s. That is, I want to build something like this: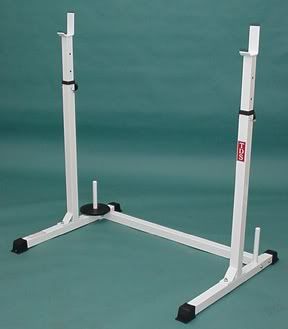 with 4x4s. Most people that are building these are using buckets with concrete as bases: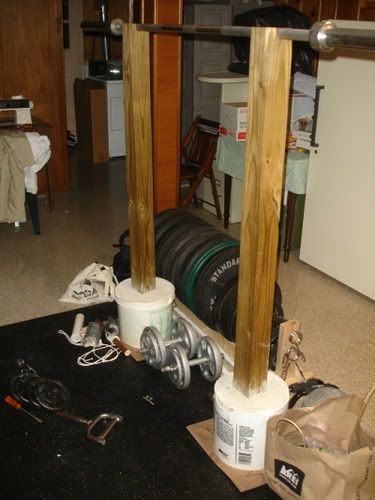 However, I would much prefer to use 4x4's or 6x6s as bases, connected to one side with another piece of wood (as in the metal-made, commercially available stand in the first picture.)
I was thinking to use some sort of the StrongTie E-Z Base™ (FPBB44) for this:
http://www.strongtie.com/products/co...rs/ezfence.asp
However, the manufacturer explicitly says it's not for load bearing posts. It would seem to me that this would be solid if I were to bolt it to wood with big *** bolts. The amount of weight I expect to use in this thing is no more than 450lbs, not the thousands of pounds one would expect on a deck or home roof.
Some people are using these ties for the top (as in the picture below), but these structures are connected to the home structure, making them solid. Unfortunately that's not an option for me. I need to be able to move these things in case I move out.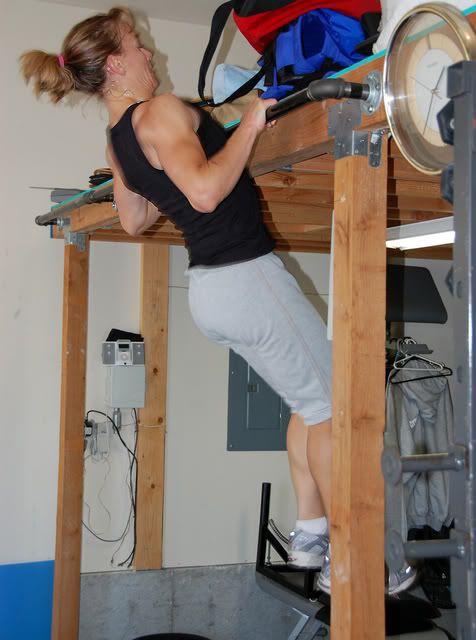 How else could/should one safely connect the horizontal squat beams to a wooden base? Is a mortise and tenon joint the best way? I never done one, and I don't have quite the tools for making one. Is it even possible, or should I just go with the concrete bases?
Thanks.
ps. I'm not sure if this is the right subforum. I placed my question here since I think this related to wood construction, but if that's not the case, I'd appreciate if a mod move it to the right place. Thanks.
-- Luis.