So... got everything assembled - it lives!
Runs smooth, passes the nickel test with flying colors. Set the 45/90 stops w/ the aid of a Wixey digital angle gauge, squared the miter slots with the blade using a Mag-DRO miter slot base + my Mitutuoyo 6" digital calipers. Got the wings pretty flat and slightly below flush with the main table, and leveled the front and rear rails to the main table as well. I made some zero clearance throat plates out of 1/4" mdf for it (had to router the edges to thickness) so I can use my Freud 8" dado stack. I've got an Incra 1000SE miter gauge on the way to replace the stock one. The only big thing left to dial in is the fence.
Actually, I've kind of got two problems with the fence. One, I can't get it to lock down repeatably the same way twice for love nor money. I'll get it to where I think its lined up and acceptably parallel with the miter slot, and then loosen it, slide it, lock it down and check it again and it'll be out 20-50 thou. The second problem is that over the left wing, main table, and most of the right wing the fence slides just fine. Out over the edge of the right wing on out to the end of the fence rail... it seems to drop down and gouge in to the rail - literally gouging into the soft aluminum.
This is a pic of the clearance between the fence head and the rail, with the fence over on the left side of the main table:
This is a pic of the clearance between the head and rail, over by the outside edge of the right wing: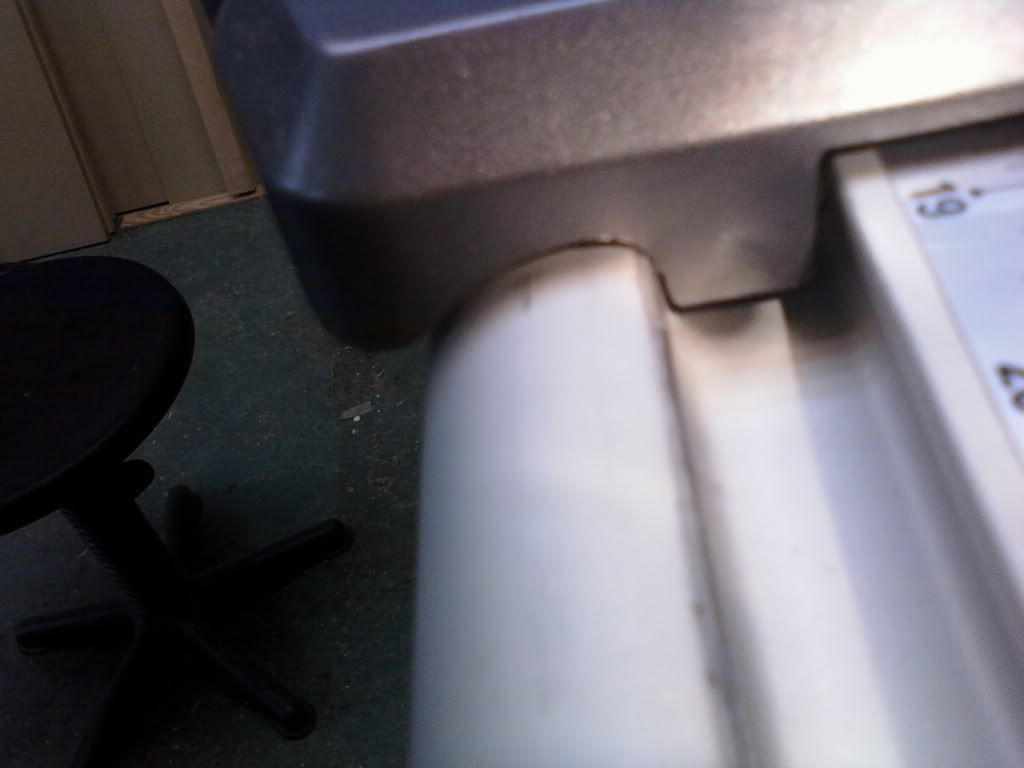 Another pic (other side) over by the right wing:
This pretty much renders the fence unusable out there. Not what I was hoping for...
Any suggestions?
TIA,
Monte