How many times have you gone to the lumberyard or big box store to pick up a couple sheets of plywood and then realized you didn't really have what you needed to secure the load in the back of your truck. If you have an 8 foot bed maybe you think it's not a problem. But the wind can still get under a sheet of ply, especially if it's thinner material like 1/4 or 1/2 inch, and send it sailing. No biggie you might say. Well last year it was and I am sure it's happened more than once.
Here's what I'm talking about.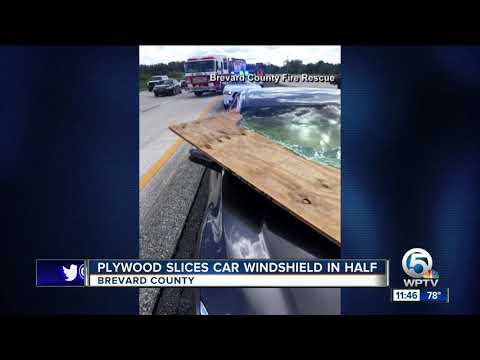 So what do you do? Well I have kept in my truck for about 15 years a simple hold down device that makes it easy to keep the sheets from slipping out the back or becoming airborne. I found the plans for it somewhere a long time ago. Might have been in Wood Magazine, ShopNotes, or any one of the Woodworking Magazines, I don't remember which and I searched the web before posting this and couldn't find anything about it anywhere. I know I didn't dream it up but can't remember where I got it from.
The one I have is falling apart so I decided to make a new one and I recorded some video while I was making it which I will post on YouTube soon and put a link here. But here is a still shot of the plywood hold down device (I don't know what else to call it).
Here you can see the old and the new hold downs.
Here is the new one all packed up the way I stow it under the seat in my truck.
I keep about 12 feet of 3/8 braided nylon rope which is more than enough to secure even 10 foot lengths of plywood.
The large hole in the clamp will let you use a ratchet strap or other rigging if you choose to.
The rope gets passed through the large hole and tied off on each side
to the truck cleats. The pin lets you adjust to the height of the stack of
plywood or sheetrock or whatever you have to transport.
On my old hold down I used a scaffold pin but I plan to replace the scaffold pin
with a 5/16" or 3/8" lock pin next time I am at the hardware store. They cost
about $2 and it's better than using a bolt or the scaffold pin as I have been doing.
You can make this with simple tools in about an hour. It could save you a headache and judging from that WPVT News video maybe a lawsuit or fine with points on your license. Not to mention you might save a life. Imagine if that had been a motorcycle.
I have no plans but it's so simple to make you really don't need any. In the video I am putting together I give all the dimensions. One thing I changed form the original was to use a dovetail joint for the base piece, but you could screw yours together like the first one I made which was the original design. I cut the dovetails on the bandsaw and finished them off by hand. I coated the completed project with urethane but you could use Tung Oil, paint, or your favorite finish. I never applied any finish to the first one and it lasted 15 years so it's really not necessary.
If you have questions let me know. I should have the video posted by the end of the week. Still need to shoot the closing shot showing the hold down in use. Weather has not been that great the past couple days.